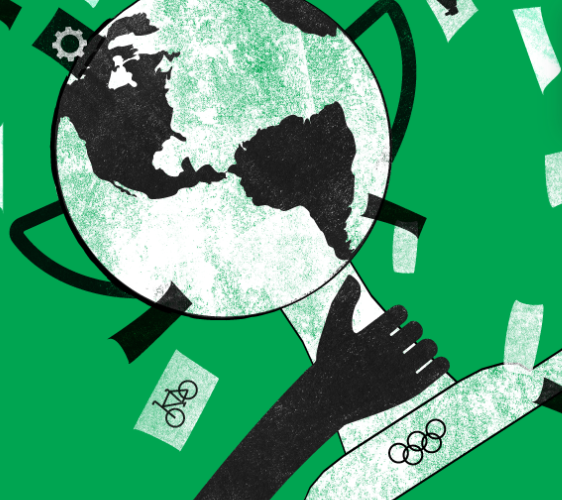 Are you an athlete working to tackle climate change? Enter the IOC Climate Action Awards by 31 March 2023 for your chance to win some incredible prizes!
WHAT ARE THE IOC CLIMATE ACTION AWARDS?
The IOC Climate Action Awards are an exciting new awards initiative designed to celebrate and support the efforts of athletes, International Federations (IFs) and National Olympic Committees (NOCs) that are tackling climate change. It's been developed in collaboration with three of our Worldwide Olympic Partners – Airbnb, Deloitte and P&G – which are each supporting an award (and giving away some amazing prizes and opportunities!)
WHY IS THIS IMPORTANT FOR THE GLOBAL ATHLETE COMMUNITY?
We don't need to tell you that climate change threatens communities, economies, livelihoods and lives. No industry or individual is immune – and the global athlete community is no different. With rising temperatures and an increased prevalence of extreme weather conditions it is becoming harder to practise winter sports, while summer competitions are now often taking place in intense heat and humidity.
As athletes and role models within your community, you have the power to lead by example and inspire others to make sustainable changes. And the IOC Climate Action Awards seek to celebrate that!
WHAT ARE THE AWARD CATEGORIES AND WHAT CAN I WIN?
CLIMATE ACTION X SUSTAINABLE TRAVEL
Are you an Olympian or Paralympian working to make your sports-related travel more sustainable?
Airbnb is recognising athlete action in the field of sustainable travel – whether that's the way you travel to events, the type of accommodation you stay in, or your lifestyle choices while travelling for competitions. As a winner, you'll receive a USD 7,500 Travel Grant, which can be redeemed on Airbnb.
CLIMATE ACTION X INNOVATION
Are you an Olympian or Paralympian with an innovative project aimed at reducing your carbon footprint?
Deloitte is celebrating the athletes who are leading innovative projects that are designed to reduce their emissions. This could include an initiative designed to reduce your own emissions, or a creative way you have educated others about climate change. As a winner, you'll receive tuition funding of up to USD 5,000 to enrol in an academic course in sustainability and leadership, to help you create more impact and grow your project.
CLIMATE ACTION X ATHLETE ADVOCACY
Are you helping tackle climate change on a community level while you train towards Paris 2024?
Through their Athletes for Good programme, P&G are celebrating the athletes who are encouraging communities to take action on climate change by raising awareness. As a winner, P&G will give you a global ambassadorship and platform to promote your work, alongside USD 24,000 for a non-profit organisation that is working in the environmental sustainability area of your choice.
Examples of projects that could make you eligible for this award include awareness-raising at events or online, educating the community or your team-mates on climate change, volunteering or fundraising for an environmental charity, working with brands and sponsors on environmental campaigns, and organising or participating in beach clean-ups.
I'M IN! HOW CAN I APPLY?
Check your eligibility for the awards on the IOC Climate Action Awards webpage, then simply fill in the application form for your chosen award. (Olympians and Paralympians can apply for more than one!)
Applications for each award are open until 31 March 2023, and you will be informed about your application status by September 2023. In addition to the individual prizes, winning athletes and organisations will be invited to an awards ceremony, where they will be featured amongst other athletes, IFs and NOCs working in this area.
Apply today for your chance to win!
Sustainable Development Goals
Learn more about
Sustainable Development Goals
Latest News