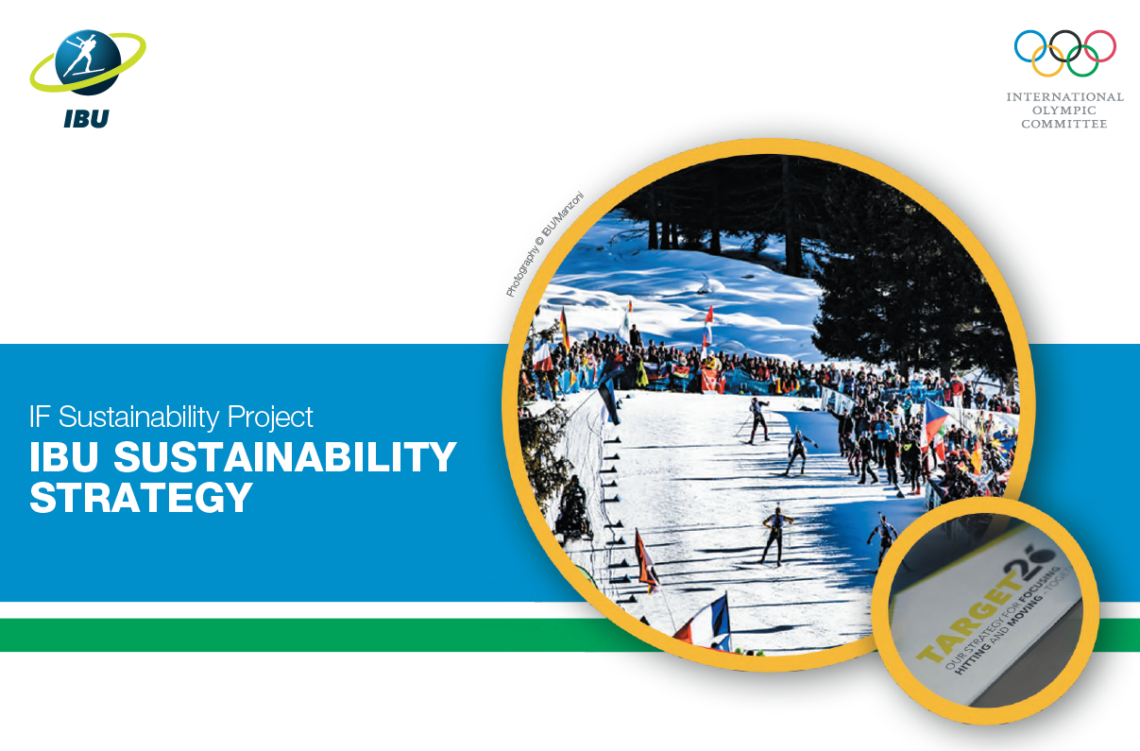 The International Biathlon Union (IBU) has introduced the IBU's Sustainability Strategy with a bold plan to balance the social, economic and environmental impact of the sport of biathlon. The Strategy follows a profound process which began following the approval of the new IBU Constitution and strategic plan called "Target 26" in October 2019.
The new strategy triggered a process for future proofing and progressing the sport recognising sustainability as a key priority in Target 26 and climate change as direct and urgent threat to the sport of Biathlon.
In the interest of maximising stakeholder buy-in through the process, IBU involved all key stakeholders in this strategic process including the National Federations (NFs), staff, athletes, organising committees, commercial partners, media, and fans. This is also in line with ISO 20121 standard's core requirements for sustainable management, which the IBU aspires to follow.
The IBU's Sustainability Strategy was designed around five focus areas:
Climate. IBU has committed to reduce its footprint 45% and become climate neutral by 2030 and climate positive by 2034, covering both IBU as an organisation and its own events. The main areas considered are travel and transport, energy consumption, food & beverage and snow management.
Venue & Event. Biathlon venues and events are to have a long-term positive impact on their communities considering all activities and including the ban of single-use plastics and ensuring that all waste is re-used, recycled or composted.
Sport. Ensure the sport has a minimal impact on the environment in particular to air, water and soil. This comprises, among others, a ban on chemical substances (such as the recent ban on fluorinated wax), minimising the use of resources on snow management, efficient uses of energy and keeping up with latest developments in salting and equipment.
People. Leading by example on the forefront of better governance standards including gender equality and diversity. By focusing on structural strategies, IBU aims at making biathlon a youth and mass participation sport, mass participation, sport that includes and supports athletes at every level from grassroots to those who wish to combine the sport with a career.
Communication and Awareness.
Amplifying the message by advocating for climate action and supporting sustainable development both within the sport and all other winter sports.
The IBU is determined to take a strong stance on making Biathlon an increasingly balanced and conscious sport on their impact on climate change, communities in which it operates its games, and its people.
BENEFITS
By having a clear and thorough sustainability strategy, a federation can define the vision and align all stakeholders across its spheres of influence.
The definition of what sustainability means to an organisation cannot be taken for granted. By establishing at an organisational level what is encompassed within that concept allows for a clear path for better planning and execution.
The inclusion of all stakeholders in the making of the strategy aligns the goals and can lead to a stronger long-term buy-in.
Click here to download the case study