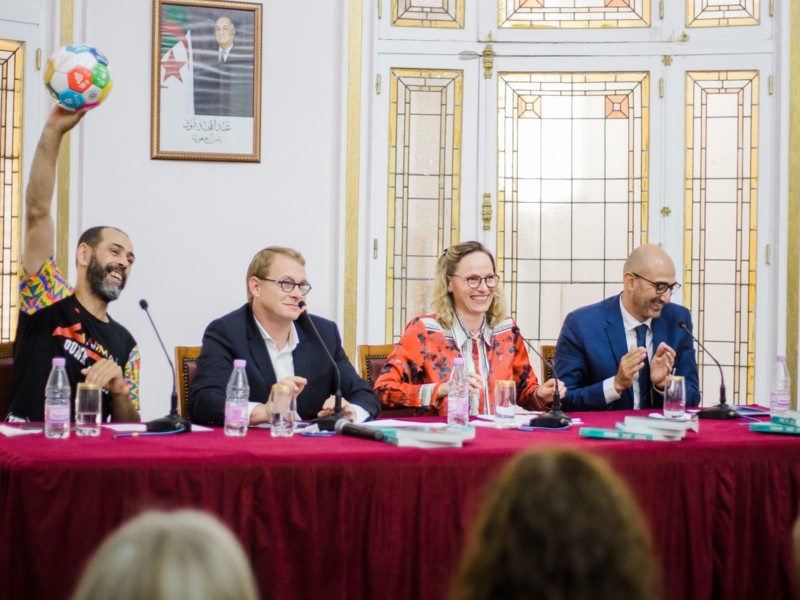 The day after the opening ceremony of the Oran Mediterranean Games, Paris 2024 and the
Agence française de développement (AFD – French Development Agency), speaking at the
Oranie Chamber of Commerce and Industry, announced the winning projects in the second
round of the call for projects 'Impact 2024 International'. The event was attended by
representatives of the Algerian Olympic Committee, the French Embassy in Algeria, which
bears the label Terre de Jeux 2024, and the 3-time karate world champion Laurence Fischer,
Ambassador for Sport. The 12 winning projects were announced at a roundtable on 'the sports
economy and its impacts on sustainable development'. A total of €303,000 will be awarded to
the various initiatives in Africa, which place emphasis on gender equality, education, health
and inclusion of the disabled, in line with the shared priorities of Paris 2024 and the AFD for the
legacy of the Paris 2024 Games.
12 projects selected out of a total of 146 applications
The last Impact 2024 International call for projects, was a great success, supporting 10 worthy
projects in Africa. In this second round, aiming to capitalise on that success, applications were
received for 146 projects in 30 African countries. The selection committee – made up of Paris 2024,
the AFD and experts from the Ministry for Europe and Foreign Affairs, Plan International, the
Decathlon Foundation, the Fondation Société Générale and Peace and Sport – has selected 12
projects this year, operating in 9 African countries.
In this second round of funding, there is a particular emphasis on team sports (e.g. rugby, football
and volleyball), and there are two new disciplines: circus skills and capoeira. The projects focus
mainly on Sustainable Development Goals 3 (Good health and well-being), 4 (Quality education), 5
(Gender equality) and 10 (Reduced inequalities). Aligning with Paris 2024's legacy priorities, all of
these projects bear the 'Impact 2024' label.
Among them is the multi-sport project 'Instilling sport in women as a tool for leadership
development', headed by the association El Gaith, in the city of Bordj Bou Arreridj in Algeria. Thanks
to the €35,000 funding awarded by the AFD and Paris 2024, the association will be able to carry out
a preliminary study on adapting sports practices to suit women, run awareness-raising campaigns for women's sports, and establish a programme to enhance teachers' abilities, and sporting
activities in schools for women and girls.
Smail Izerrouken, President of the association 'El Gaith', Impact 2024 International winner: 'This
funding will help combat stereotypes and encourage women and girls to practice sports, helping to
further sustainable socio-economic development. All members of El Gaith, and all those who benefit
from the association's projects and actions, are very grateful to the AFD and Paris 2024.'
List of winning projects*:
'Improving material conditions for the exercise of circus arts to help the social integration,
education and professional training of adolescents' led by 'Zip Zap Circus' in South Africa
'Instilling sport in women as a tool for leadership development', spearheaded by 'El Gaith' in Algeria
'Promotion of women's football for the protection of the environment' by the 'Organisation for
Sustainable Development and Biodiversity (ODDB)' in Benin
'Mi Dokpo – Together for the emancipation of young people' by 'Enfants de l'Ovale' in Benin
'Pass-SPORT' by 'Sages-Femmes sans Frontières' in Benin
'Educafoot' by 'Kenskoazell Afrika' in Côte d'Ivoire
'Jouer la différence' (poetically, Play Different) by 'Association Elyoussr pour enfants aux besoins
spécifiques' (Association for Children with Special Needs) in Morocco
'Playing the Game of Healing' by 'SOS Villages d'Enfants' in Morocco
'Buref' by 'Watoko Wasoka' in Uganda
'Social Capoeira: sport to build peace and dialogue' by 'Gingando pela Paz' in the Democratic
Republic of the Congo
'Bridge the Gap, Sports for All' by 'Women Sports Initiatives' in Tanzania
'Promotion of volleyball at school to promote gender equality' by the 'Association Togolaise pour
la Promotion du Sport pour Tous' (Togo Association for the Promotion of Sport for All
Third round opening on 18 July 2022
Are you running a project in Africa which uses sport to promote health, education, equality, inclusion
or protection of the environment? Would you like funding or support?
Eligible organisations (associations, foundations, regional collectives, sports clubs, federations,
cooperatives, State bodies and public bodies, among others) are invited to submit their ideas for this
third round of Impact 2024 International, on the Sport en Commun website, by 23:59 (GMT) on 1
September 2022. There is a tutorial to guide you through how to submit your initiative.
Organisations whose initial proposals meet with approval will then be able to file a formal
application between 16 September and 31 October 2022.
The projects must take place in Africa. All 54 countries of the continent are eligible, apart from red
zones defined by the Ministry for Europe and Foreign Affairs. In line with the AFD and Paris 2024's
priorities, particular attention will be paid to projects targeting vulnerable groups of people, and
Winners can receive up to €40,000 per project, covering up to a maximum of 75 % of the overall
budget for the project.
Tony Estanguet, President of Paris 2024: 'The winners of the Impact 2024 International call for
projects are, in their own right, contributors to the legacy of the Games Paris 2024. Alongside the
AFD, we firmly believe that sport can change lives all over the world, helping to promote education,
health, inclusion, equality and the environment. A big thanks to the associations who, every day,
prove the truth of that vision.'
Rémy Rioux, Chief Executive of the AFD: 'To bring about a positive impact through sport, in fields
such as education, gender equality and health: that is the ambition of the twelve winning projects,
which the AFD is proud to support, in partnership with Paris 2024, through Impact 2024
International. Together, we continue to put sport into development, and put development into
sport, to achieve the Sustainable Development Goals in Africa. For the world we all share.'
*Subject to Anti-Money-Laundering and Combating the Financing of Terrorism (AML-CFT) checks.
Sustainable Development Goals
Learn more about
Sustainable Development Goals
Latest News