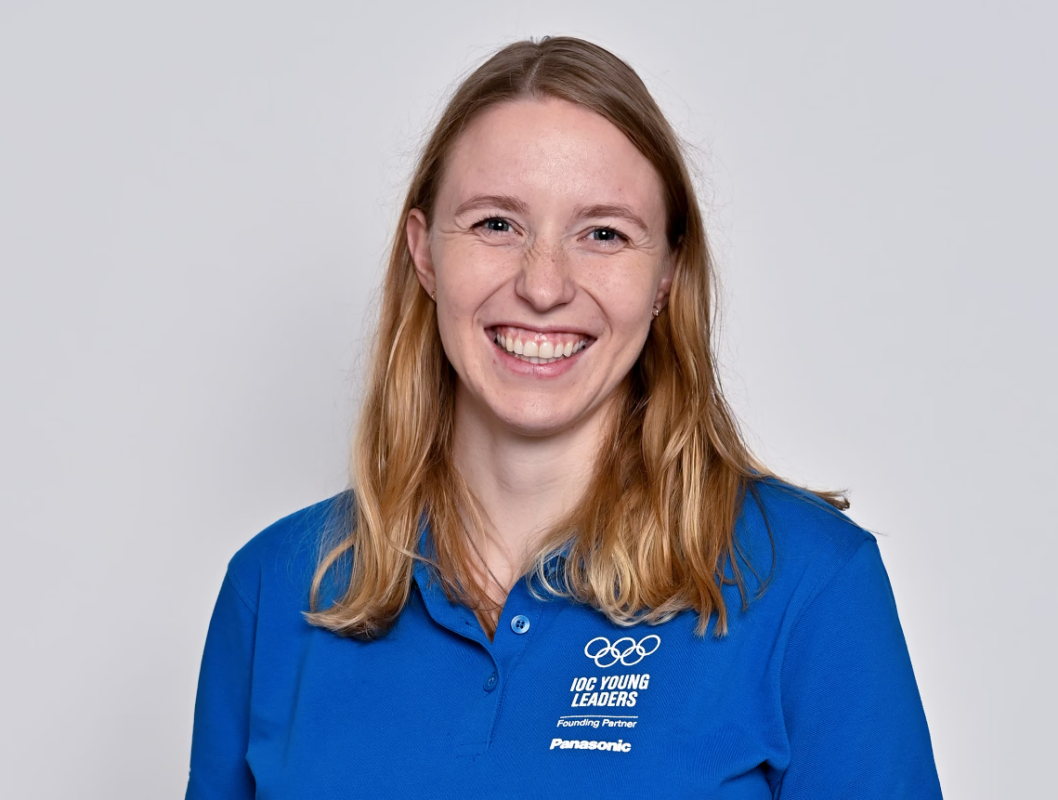 This year, International Women's Day will have special significance for IOC Young Leader Aneta Grabmüller Soldati. Inspired by her own experiences, the triathlete is launching a new website on 8 March to fill a significant gap in sport – information about women's health.
As a young athlete, Aneta was the victim of harassment from her coach, relating to the continuous and unrelenting focus on her weight and the control over her diet that left her with a constant calorie deficit. As a result, she developed Relative Energy Deficiency in Sport (RED-S), which weakened her body to such an extent that she suffered a stress fracture and decided to retire from triathlon at only 21.
With the aim of helping athletes who face similar situations, Aneta has become part of the International Olympic Committee (IOC)'s Young Leaders Programme. Supported by founding partner Panasonic, this initiative provides budding social entrepreneurs with mentorship, learning opportunities and seed funding to launch projects that leverage the power of sport to make a positive difference in their communities.
Now, working with universities and a research team specialising in sports nutrition, and thanks to the support of the IOC Young Leaders Programme, Aneta has created the website red-s.cz – part of her Naplno project – which aims to fill the void of information on RED-S and give Czech athletes access to the information she didn't have when she was growing up.
The power of micro-aggressions
Growing up in a sporting environment, it is unsurprising that Aneta followed her parents' example to become a triathlete. She shared a very special relationship with her mother Šárka – she trained with her, competed against her, and was also coached by her until the age of 15, when she was first selected for the Czech national team. It was at this point that the family decided they needed some professional support and brought in a national team coach to take charge of Aneta's sporting development.
While Aneta's triathlon career went from strength to strength, her mental and physical health were deteriorating.
"At 15, I was the youngest member of the national team, which made me quite isolated. I was also very unlucky with my coaches. They didn't have the right approach or understand how damaging insensitive comments can be to a vulnerable 15-year-old girl, especially about her body and weight," she revealed. "This made me develop some very unhealthy eating habits."
This negative focus on Aneta's weight led to her developing not only an eating disorder, but also RED-S. The condition is often overlooked in the wider medical and athletic community, and – unchecked – RED-S started to weaken her body and alter her menstrual cycle. Eventually, she couldn't cope anymore.
"There are many symptoms of RED-S," she said. "I suffered a stress fracture in the end because my body couldn't handle the amount of training I was required to do. That was the main reason I retired at 21."
Using her experience to make a difference
Although she had to stop competing at the elite level, Aneta wanted to remain involved in sport. With this in mind, she moved to Norway to study a master's degree in sports management, and she now works as a researcher in sports sociology.
"All of a sudden, all your decisions are just yours, with no judgement," she said. "And what I found out when I moved there was that I still very much enjoy sport and that I want to continue taking part just for fun, just for me."
Aneta also took time to reflect on her experiences. She wanted to ensure that no one else would go through what she had suffered and to promote a safe environment for athletes. These ideas brought her to the IOC Young Leaders Programme.
When she first joined the programme, she decided to focus on disordered eating in sport, and soon noticed a recurring theme when interviewing young female athletes – their eating disorders were directly linked to their training environment and the abuse they suffered. As such, Aneta reoriented her project to offer those affected access to information they might otherwise be lacking, leading to the launch of Naplno and red-s.cz.
The website, which Aneta herself says she wishes wasn't necessary, is particularly targeted at those in the Czech-speaking world, providing support to athletes, parents and medical professionals on how to deal with RED-S, how to properly fuel your body and the risks associated with overexertion. The platform also offers a chat function to talk directly to a nutritionist.
Having noticed how influential an environment can be on a young athlete's eating habits and general sense of well-being, Aneta further supplemented her work to improve conditions for athletes by enrolling in the IOC Certificate: Safeguarding Officer in Sport programme. With seven learning modules, the course – supported by Olympism365 – teaches participants about the key role safeguarding officers have in fostering a safe environment. It also focuses on how to prioritise athlete health and safety, and how to create safeguarding policies, as well as important definitions for sexual harassment and assault.
A new leadership role: motherhood
After five years of retirement, Aneta returned to competitive sport in 2020 with a completely new approach. Though her PhD studies took most of her attention, she enjoyed some surprising results in triathlon.
"I came back in 2020 and had the best season of my life. In 2021, I won bronze at the World Championships, probably the biggest achievement in my career, even though triathlon wasn't my priority and initially I was just taking part for fun."
She also became a mother in February 2023, an experience that has made her reflect on her life growing up through sport.
"The new role feels so natural," Aneta revealed. "And I've been thinking that I want my daughter, if she decides to do so, to have a better experience in competitive sport than I had. And I certainly want her to have the opportunity to practise sport in a safe and positive environment."
Worldwide Olympic Partner Panasonic's continued support
The IOC Young Leaders Programme has been supported by Worldwide Olympic and Paralympic Partner Panasonic since 2017, and this will continue through to 2024. Panasonic, as the programme's founding partner, is committed to supporting the IOC Young Leaders through different initiatives, for example providing its creative and technological expertise, along with its network of influencers and ambassadors, to inspire the Young Leaders and equip them with the skills and tools they need to enhance their projects.
Sustainable Development Goals
Learn more about
Sustainable Development Goals
Latest News