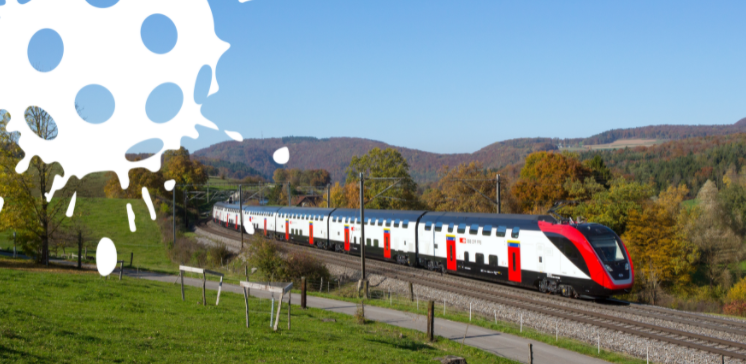 Compared to private transport, traveling by public transport in Switzerland is not only stress-free, but also good for the environment and thus in line with the Green Goal of the Men's World Floorball Championships 2022. As a partner of the WFC 2022, Swiss railways SBB is helping to implement various measures to save CO2.
The Green Goal of the WFC 2022 aims to ensure that as little CO2 as possible is emitted. To achieve this goal, the fans will also be involved. After all, everyone can make a contribution to reducing CO2 emissions. For the journey to the games of the opening weekend as well as the final weekend, the WFC 2022 organizes together with the SBB a total of four extra trains from Bern with some stops in the Mittelland and directly to Zurich Altstetten, where the Swiss Life Arena is located. Fans from the Zurich region, meanwhile, already have the entire ZVV area included in their ticket and can travel free of charge by train, bus and streetcar to the Swiss Life Arena or AXA Arena. Those arriving by public transport from outside the Canton of Zurich only pay up to the first stop in the Canton of Zurich. This encourages visitors to leave their cars in the garage in favor of public transport.
"SBB is delighted to be a transport partner of the Men's World Floorball Championships 2022 and to transport fans to Zurich Altstetten and Winterthur in a sustainable manner. The idea of the Green Goal is an excellent fit for SBB and so a close cooperation with the WFC 2022 is obvious," says Christian Zingg, SBB Project Manager. "I am particularly pleased that, in addition to all other fans, we will also be able to transport the invited school classes with up to 20,000 pupils from all over Switzerland to the floorball games."
"Our aim is to ensure that as many fans as possible travel to the World Cup by public transport. The fact that we can count on a great partnership with SBB is ideal and extremely important on our way to the Green Goal," explains Daniel Kasser, CEO of the WFC 2022. "I am particularly pleased about the four extra trains. By traveling by train, fans save 95% CO2 compared to traveling by car and can already discuss the upcoming matches with like-minded people when they travel to Zurich Altstetten."
Tickets for the extra trains on November 5 and 6 and November 11 and 12 are available online at the Ticket Shop. The exact departure times of the extra trains will be announced at a later date.
Sustainable Development Goals
Learn more about
Sustainable Development Goals
Latest News